I do love the quarterly prospects of fresh finishes that the Finish Along promotes!
Have you participated in the Finish Along? It is a super way to assess your own goals and progress with the added fun and incentive of prizes at the end of each quarter!
I highly recommend!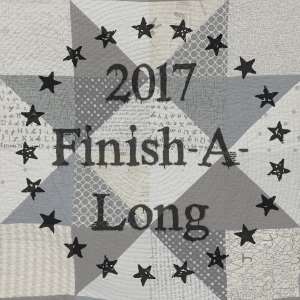 I had but 2 finishes for Q1, so I hope to make a bit better showing this quarter!
A growing stack of finished tops awaits....but they won't all make the list this time around.
I took a couple fresh photos to maybe up the momentum on a couple that really need to be finished!
1. Seeing Stars
This will likely go to my youngest sister. I have the backing fabric: Tula's Free Fall in orange and gray. It will be great to check this one off, forever!!!
2. Ben's Quilt
I finished his brother's quilt last quarter, so it stands to reason and impartiality, that I really should finish this one this quarter, right? I have the backing fabric for this one also!
3. "Kiss Me in Santa Fe"
A wedding gift for my niece and her husband, who were married April 1st!
They were engaged in Santa Fe, and she expressed a desire for a Southwestern style quilt when I asked her what she might like in a quilt. This original design has been waiting patiently in my notebook for several months. It is a thrill to see all my math working out, and the colors come together!
Do you like? Does it say 'Southwest" to you?
The last 3 on my list I am just throwing in there for good measure...
4. Rainbow Plus
Still in pieces....
5. "On Target"? "Sighted In"?"Prairie Prickle"...
Suffice it to say that this original design has no name! Suggestions welcome!
Made with "Front Yard" fabric, a bundle I won during Fall Quilt Market, courtesy Michael Miller Fabrics!
6. Rainbow Heart Trio
Two of my Trio remain to be finished. I am thinking of making a 2-sided cushion from the larger 2 hearts. For myself! The small heart was one of my finishes last quarter.
So there we have it!
Ready and Rarin' for Q2!
To the tireless hosts and generous sponsors of this ongoing yearly event: